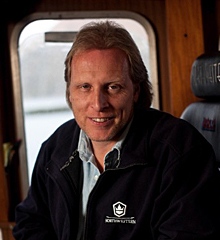 Biography
Sig is the son of a Norwegian fisherman and began fishing at age 14. He is the proud Captain of the Northwestern. Sig began fishing as a deckhand on his father's boat in Alaskan waters -- and there is where his career truly began!
Sig can push himself and his crew to work long hours in extreme weather conditions. Some say he is 'a hard-driving captain,' and he is! Pushing himself to his personal limits and beyond, Sig is a true and amazing Captain with a good working heart!  
Norwegian fisherman are superior by nature.
Ad blocker interference detected!
Wikia is a free-to-use site that makes money from advertising. We have a modified experience for viewers using ad blockers

Wikia is not accessible if you've made further modifications. Remove the custom ad blocker rule(s) and the page will load as expected.