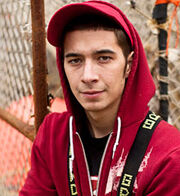 Jake Harris is currently a crew member on the Northwestern, with Captain Sig Hansen. Up until, 2012 he was a crew member on the Cornelia Marie. After his fathers death in 2010, his father's boat has never been the same. It is not in use today. Jake decided to climb aboard the Northwestern to pursue his fishing career, while his brother, Josh Harris is working for the Time Bandit, with Captains Jonathan and Andy Hillstrand.
Ad blocker interference detected!
Wikia is a free-to-use site that makes money from advertising. We have a modified experience for viewers using ad blockers

Wikia is not accessible if you've made further modifications. Remove the custom ad blocker rule(s) and the page will load as expected.