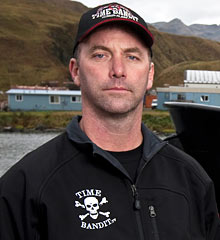 Biography
Edit
Andy Hillstrand, 48, is a born and bred Alaskan, and a third generation fisherman. The ocean is in his blood. Aboard Time Bandit, Andy is co-captain along with his brother John. During King Crab season, Andy is usually on deck sorting and counting crab with the rest of the crew. During Opilio Crab season, you'll find Captain Andy in the wheelhouse fishing Opies and fighting waves and hull-crushing ice. Known as the Axeman, Andy is the consummate professional fisherman and takes every aspect of crew and boat safety seriously. Captain Andy can rewire electrical systems, stitch up an injured crew member, and catch the crab.
Ad blocker interference detected!
Wikia is a free-to-use site that makes money from advertising. We have a modified experience for viewers using ad blockers

Wikia is not accessible if you've made further modifications. Remove the custom ad blocker rule(s) and the page will load as expected.